Stop, Breathe & Think Kids App
For the last couple of weeks, I have been using the Stop, Breathe & Think Kids app intermittently, exploring the different types of missions available to use.
When you open the app, you are prompted to choose either "Find a mission," which directs you to an self-check in screen, or "See all missions" which shows all the activities available on the app.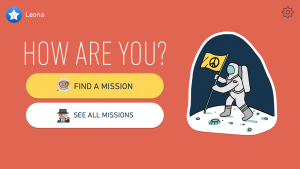 After clicking on "Find a mission," you are asked to select three emotions that describe how you are feeling at the moment. Within each emoticon, you can choose a specific emotion. For example, pressing the middle icon with the stretched smile will provide you with the option to select 'restless,' 'nervous,' 'awkward,' or 'worried.'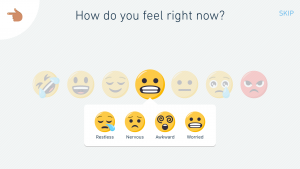 After choosing three emotions, the app will provide you with a few selected activities to help you deal with what you are feeling at the moment. In the example below, I have picked three feelings – nervous, sad and angry. The app recommended that I try the activity "Bulldog Finds His Quiet Place" – a four minute guided meditation that focuses on thinking and breathing deeply to help ground and center yourself.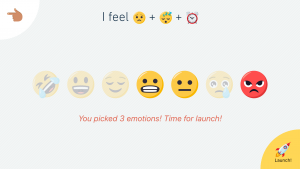 What I really liked about this app is that it encourages children to self-identify what they are feeling at the moment and helps them determine what they need to help themselves. I thought that the description of the activities as 'missions' was helpful as it gives the guided talks & meditations a lighthearted and enticing feel – children would feel more motivation to try out the activities if they are seen as adventures rather than simply 'another task' to complete.
Stop, Breathe & Think Kids encourages parents to introduce this app gradually by going through the app's content and trying out different missions together. An emphasis is placed on making the activities fun for children – the SB&T website recommends using acting out the scenarios or using props to replicate the scenarios within the app.