Minecraft Education
In today's class, we had a special presentation about Minecraft in education by Heidi James, a teacher from Colquitz Middle School, as well as a group of students from Colquitz and Spectrum Community school who actively play Minecraft and have been an integral part of the formation of the middle school's extra-curricular club.
Thank you #edci336 for having open minds, fantastic questions, and a willingness to play and learn how we've used #MinecraftEdu in our classrooms. I hope that you heard that one quiet @ColquitzScene student who said "thank you for being my people" as we left. #sd61learn

— Heidi James (@h_james18) November 8, 2019
Over the course of the hour and half session, Heidi walked us through how Minecraft works and the many tools teachers can use to facilitate cross-curricular learning in the classroom. Searching the hashtag #minecraftedu on Twitter and walking through the Minecraft Education website provides a great starting point for understanding what the game is all about.
To begin, Heidi provided an overview of Minecraft Education – using the game as an educational tool to learn to code and create a world from scratch has many benefits. Some possible topics you could explore using Minecraft as a platform:
Spelling (building using blocks or other resources)
Mathematical patterns
Early human civilization / social studies concepts
Co-ordinal planes (x and y axis) – provides a visual, tangible and unstructured way to learn abstract math concepts
Teamwork
Language development
An alternative to the traditional 'diorama' format to demonstrate learning
An advantage of using Minecraft in the classroom is that it provides students with multiple means of expression and can be made accessible from home for students to work and collaborate with others beyond school hours.
The Microsoft Educator Community has great opportunities for learning about #MinecraftEdu! "My Minecraft Journey" can take you from newbie to classroom-ready in five sessions, each with their own badge. Get started here: https://t.co/ftEoP7jAE4#PD #MicrosoftEdu pic.twitter.com/bBM3g3fNPq

— Minecraft: Education Edition (@PlayCraftLearn) November 10, 2019
As an educator using Minecraft for learning, there are many controls teachers have access to for customizing the game to the needs of specific projects or inquiries. Teachers can manage player settings – they can freeze students (and consequently game play), keep inventory of resources, permit character re-spawning, allow students to build or chat within the game. Teachers can also give themselves the ability to 'fly,' where they can monitor student engagement from above.
In addition, teachers have the ability to choose different modes in the game – creative, adventure, spectator, hardcore, and survival. In survival mode, characters are restricted in their available resources. This mode can replicate early human civilization situations and social studies concepts such as initial vegetation or cooking proteins can be tied into the learning experience.
Evaluation
When using Minecraft for learning, Heidi ensures that she provides clear criteria and explains what the expectations of the project, including an appropriate timeline. One way to keep students on track is to supply them with an assignment checklist and a format for students to give a self-reflection of their contributions during the class.
EdCamp
During the second half of class,  we learned about the EdCamp Model. This is newer type of educational conference that is constructed in a way that allows increased contribution and engagement from its attendees. This model seeks to break down the barriers associated with traditional conferences.
EdCamp is open to everyone (teachers, learners, EA's, principals etc), hosted in a school or community area to lower or eliminate rental fees, usually takes place on the weekend, and presents with volunteering key note speakers, saving costs.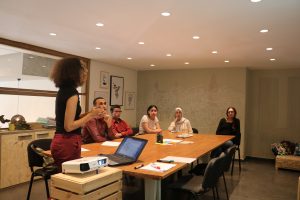 This model is largely participant driven. In an EdCamp, participants mark down what they want to learn about, and the most popular topics are chosen and spread out throughout the day. In these discussions, there is no single facilitator, so everyone is on the same playing field in terms of contributing.
In our class, we then held our own mini version of an EdCamp. We were provided sticky notes to write down educational topics we were interested in learning about, and then given three sticky dots to vote on on our top three ideas. Afterwards, we chose a topic and broke off into different groups throughout the building to discuss. Everyone had the opportunity to contribute the conversation.