Our class had the great opportunity to visit PSII – the Pacific School of Innovation and Inquiry during our allotted lecture time last Monday. The school is located in a very convenient spot in the heart in downtown Victoria on lower Douglas Street. When I first arrived outside the building I was quite surprised – I realized that I had walked past this entire high school many times before without ever noticing it was there!
We started the tour with an opening introduction session with Jeff Hopkins, the principal and founder of PSII. In this meeting, Jeff gave our class an overview of PSII's educational concept and layout. He explained the many advantages of inquiry-based learning and how this type of education can be personalized to individual students to support them with their own planning and goal setting.
And when you change surrounding structures to better support interdisciplinary inquiry, it works even better! What a surprise: people learn better when learning in the way that people naturally learn things. 🤭 https://t.co/T55HTKU32b

— Jeff Hopkins (@hopkinsjeff) October 20, 2019
Jeff also walked through a typical day for a student at the school. PSII has integrated a lot of technology into their curriculum, with Trello playing a large role in student/staff communication and organization. Part of the unique design of PSII allows students work on curriculum to reach core competencies in a non-linear fashion – essentially, students have greater freedom to choose what they want to focus on and when they would like to do so.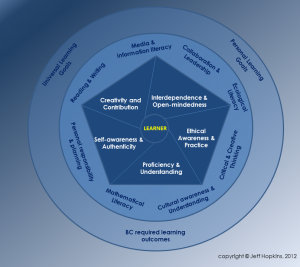 Jeff provided an example of a grade 10 student's Trello to illustrate this. From her board, we could see that she was working on learning a new language, working on mathematics, and collaborating with other students on a group project. On the side, however, this student was also learning out within the community – she was writing a letter to her local municipal council to inquire about its dog bylaw since she would soon have too many pets permitted by the municipality as her current therapy dog is about to retire. Through this personal inquiry project, this student has been given the opportunity to learn about law-making, social-economical factors, and presentational skills to name a few, topics of which a regular student would probably not get to explore in depth in such an interconnected and meaningful way.
Some discussion points that Jeff brought up during his presentation that interested me the most was the idea around anecdotal reporting. At PSII, students do not receive letter grades at the end of a reporting period, but rather a description of their progress of each competency, which is then categorized into a developing, expanding, fluent or proficient level. This anecdotal type of report card is useful for helping students understand how they're learning and continuously work towards their goals without being tied down to a specific letter grade. The idea behind this kind of reporting really resonated with me. I think that anecdotally documenting a student's progress is extremely beneficial for encouraging student growth. I am interested in researching more about this process and incorporating it into my future classroom where possible!
PSII's Competency Assessment Framework is broken down into eight different sections:
Ecological Literacy
Reading, Writing, Speaking and Listening
Mathematical Literacy
Collaboration and Leadership
Critical and Creative Thinking
Cultural Awareness and Understanding
Information and Media Literacy
Personal Planning and Responsibility
These core competencies are then merged with various objectives/contexts – e.g scientific process and application, indigenous peoples, designing & making, and ethics awareness and application. A visual graphic for this framework can be found on PSII's PDF document here.
School Design
When I first walked into PSII, I was pleasantly surprised. The layout of the school is akin to a collaborative office space – traditional desks and alternative seating covered the main entry way, and small group study rooms and conferencing areas lined the rest of the building. It was really interesting to see the self-directing nature of the students – there weren't any teachers directly monitoring or regulating the learners.  In addition, the lack of bells or structured 'class blocks' was a bit difficult to wrap my head around, but the students there seemed to enjoy this relaxed space and knew when to take breaks and refocus on their learning.
Resources provided by PSII