In my last post, I mentioned testing out different habit-tracking apps on my phone. After researching several different apps from a list on Tomas Laurinavicius's blog post, I have decided that the first app I would like to try is Habitica.
This app is unique because it uses video game concepts to help motivate and entice users to reach their goals. I thought this design was really neat, and none of the other apps I briefly looked at used this kind of idea, so I decided to explore Habitica and see for myself.
First impressions
Online Presence
After deciding on Habitica, but before downloading the app, I searched for it on Google to read user reviews, articles and recommendations.
Habitica launched in January 2013. Unlike other habit tracking/online task management platforms, Habitica users become a part of a role-playing game involving different characters, quests and goals. Founded by Tyler Renelle, Siena Leslie and Vicky Hsu, Habitica is an open source project with a Creative Commons license whose development was funded through a successful campaign on Kickstarter.
November's Resolution Success Challenge is here! Check out Here be Dragons for extra motivation to stay strong as we come to the end of the year. https://t.co/sVtXjruPX3 pic.twitter.com/C2SZJSjPwc

— Habitica (@habitica) November 1, 2019
The company is active on social media for engaging users as well. People can keep track of their progress and receive updates of the app through their Twitter handle, Wiki Fandom page, and WordPress blog.
Habitica is available both in desktop as a web application and as an app. After a quick Google search online, I have found that overwhelmingly positive reviews for this application. On Google Play, Habitica has a 4.3 star rating based on 14,000+ reviews, with many users praising the unique layout and gaming aspects embedded in the app.
From their website, Habitica boasts reviews and features from numerous prominent media organizations such as Lifehacker, The New York Times, Forbes, Kickstarter and Fast Company.
Some of the online reviews that have helped with my evaluation of the app include Thomas Frank's user guide, and Keep Productive's full review. Both videos provide an in-depth analysis of the app's features and how it has impacted their productivity goals. I recommend giving these videos a quick watch if you'd like a brief overview on what Habitica is all about!
The Layout
First, I looked at Habitica's online webpage. Users are prompted on the Home screen to log in or register for a free account. I dabbled around the sites many pages, noticing the different 'Company' and 'Community' resources linked throughout. However, I left without signing up as I wanted my first experience with the site to be from its mobile app.
Signing up is simple. To create an account, you need to make a username, add in your email, and confirm a password.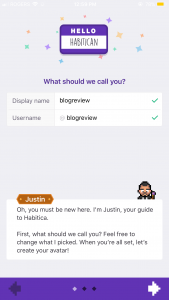 I was quite surprised by the format/design of this app. When you first launch, a character named Justin runs you through app set-up where you customize your avatar and choose the habits/goals you would like to work on. It was nice to have a personal guide to explain different features of the app to you.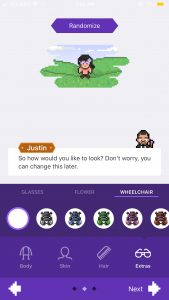 The bottom of the app is split into five sections: habits, dailies, to-do's, rewards and menu. I found these tabs easily manageable and simple to navigate.  Based on my search of their web application, I thought that there would be more of a story aspect (e.g a virtual map, ability to see other avatars), however the app simply a platform for recording your notes and adjusting your checklist. This makes sense as mobile devices have smaller screens. I assume that the desktop version would have more storytelling visuals.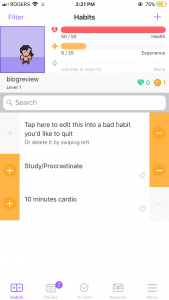 The art style of the app is nostalgic – 8-bit characters and settings dominate the design in the app. I really enjoyed choosing my character in Habitica's fantasy world. Using the app brought back memories of old desktop games I used to play as a kid.
What's Next
As I am writing this blog, I can't help but direct my attention towards the growing word count and post length. As a result, I will continue & finish my review on next's weeks blog post. Stay tuned for that in a couple days!