Click here to view my original blog post for Topic 2. My other blog posts from this course are also available here (topic 1) and here (topic 3).
To explain and demonstrate my thinking process, I created a copy of my original post on a Google Doc and added annotations describing my edits. My personal notes have been color-coded and my comments are also listed in the side bar.
---
Before diving into this week's readings and activities, I was unfamiliar with the history, theories, and overall distinctions between varying types of distributed and open learning approaches in Canada. I found it really interesting to learn about how open and distributed learning has developed, changed and continued to evolve over time in its practices throughout differing contexts.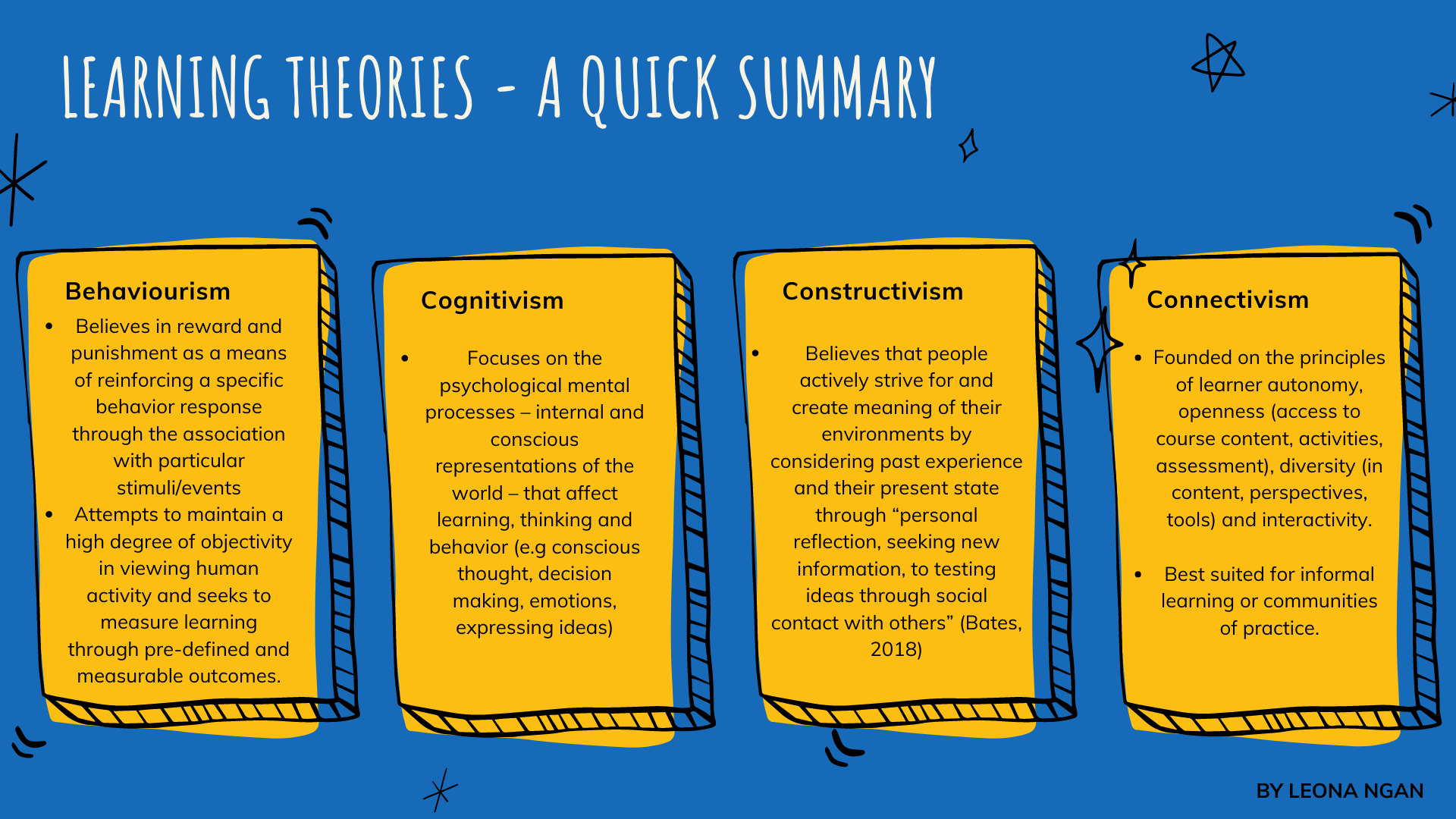 One main idea I took away from Bates' post was the importance of developing an understanding of varying theoretical approaches (including alternative ones) as they can be useful in many different situations and contexts, such as online, face to face or blended environments. Doing so puts you in a better position to make choices regarding your approach in teaching and meeting the needs of your learners.
Learning Spaces – Open & Distributed Learning
Reading through and annotating this week's articles with my pod group has given me a better understanding of open education practices and what types of learning and teaching falls under this general 'umbrella' term.
Open Education Practices describes a type of pedagogy (teaching and learning method) rather than a specific learning theory. As defined by the International Council for Open and Distance Education, OEP are practices which "…support the productions, and reuse of high quality open educational resources (OER) through institutional policies, which promote innovative pedagogical models, and respect and empower learners as co-producers on their lifelong learning path" (Roberts et al., 2018, p. 528). It is supported by the findings and understandings of prominent theorists such as Dewey (1916), Vygotsky (1978), Pacquette (2005).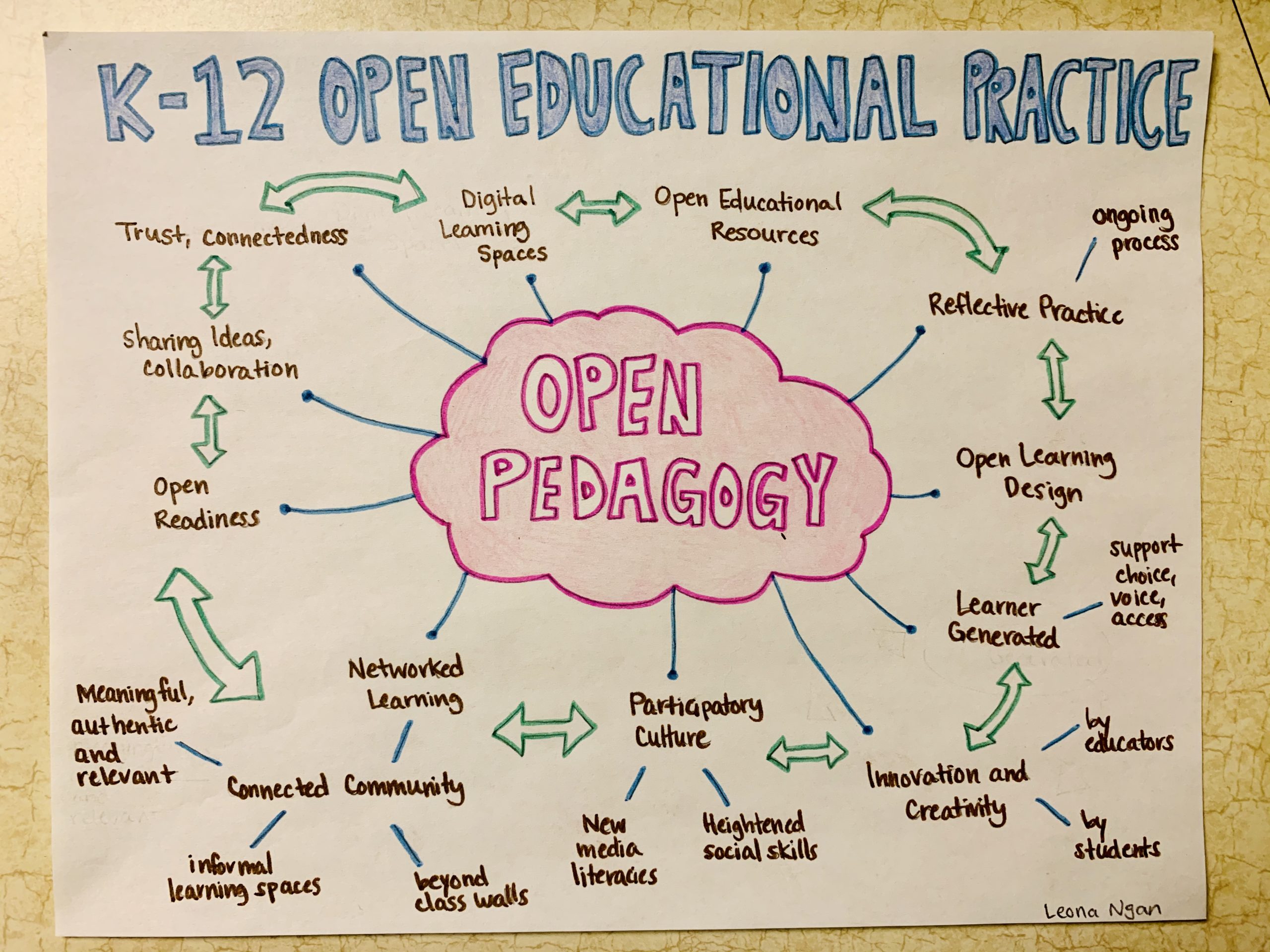 Through teacher facilitation of OEP, students "identify and locate learning opportunities for themselves as well as create learning opportunities for others" (Roberts et al., 2018, p. 530) whilst working on an equity basis with the premise of access to choice, time, place, medium and content through a participatory culture.
Facilitating a participatory culture in open learning often involves utilizing new forms of digital media. As explored by Reilly (2009) in What is learning in a participatory culture, this movement between physical and virtual learning spaces highlights the great opportunity and responsibility to teach students about different cultural competencies and social skills required in a highly networked and collaborative learning environment. The new literacies, which are built upon "traditional literacy, research skills, technical skills, and critical thinking skills taught in the classroom," support the shift from individual expression to community involvement inherently present in open learning (Reilly 2009).
I thought that this article connected really well with the readings from this week in addition to those explored throughout the entire course (about privacy, FIPPA considerations, accessibility and overall digital literacy). By explaining the new digital and connective landscape of today's media-filled world, Reilly describes the endless possibilities engaging in a participatory culture (which is cultivated in open learning) can create for students to create, communicate, problem solve and collaborate with each other and the greater community at large.
Below, I have chosen to summarize a number of the new literacies and skills discussed (which relate best to open learning) in a visual infographic.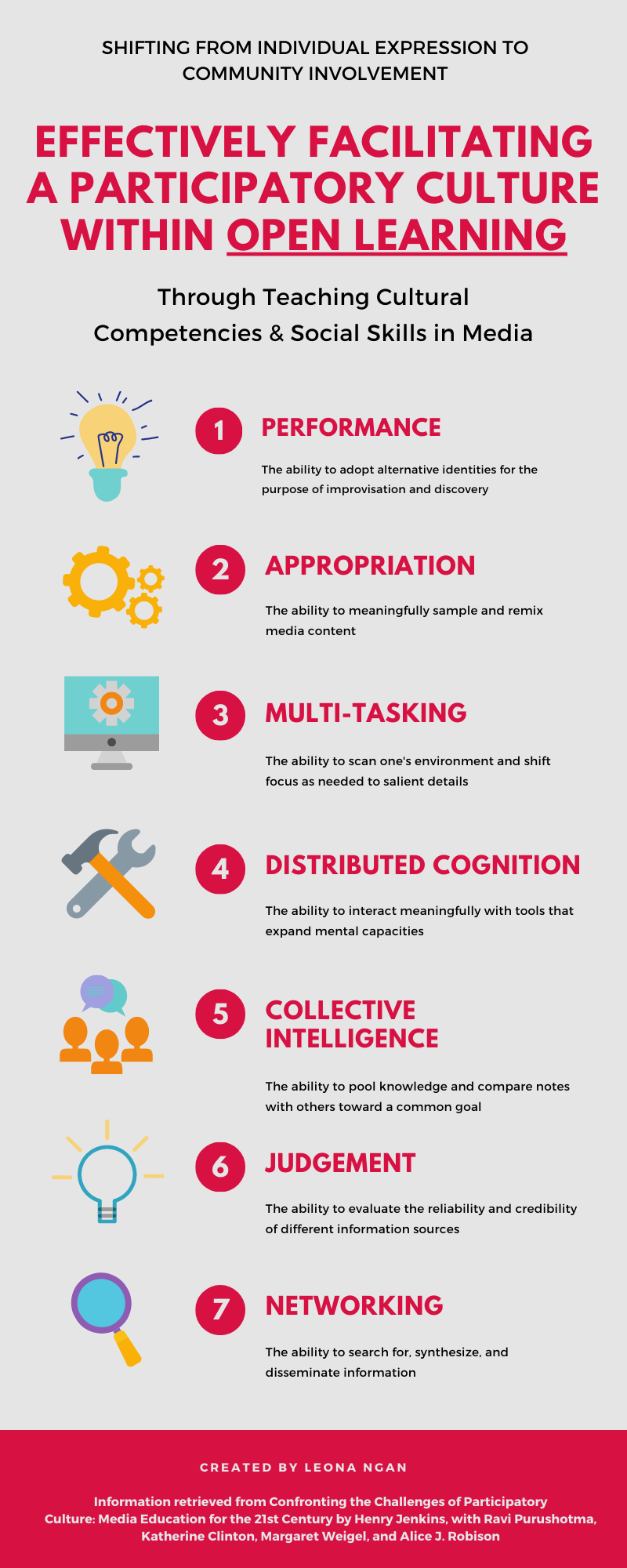 Elaborating further on participatory culture, I thought that the following interview with Henry Jenkins encapsulated the benefits of opening up education, in terms of student and teacher roles, very well.
"As an individual teacher, I can't teach everything my students need to know. But as someone who is part of a larger set of social practices, if I collaborate with other teachers, and if I create spaces where my students can share what they know, then a different kind of learning takes place – that is, in the long-term, more valuable for everyone."  -Henry Jenkins (2018)
Another video by Jenkins that helped deepen my understanding of how digital communities and tools can be incorporated to support open, accessible and collaborative learning is this interview conducted with Edutopia.
In a nutshell, open learning involves intentional design that expands learning opportunities for all learners beyond class walls. Examples from course activities this week include engaging with the Twitter hashtag and Padlet Q&A.
Distributed learning  – includes online, blended and e-learning (in a BC context). This medium opens up opportunity by allowing flexibility outside of regular classroom schedules and providing greater student access and choice.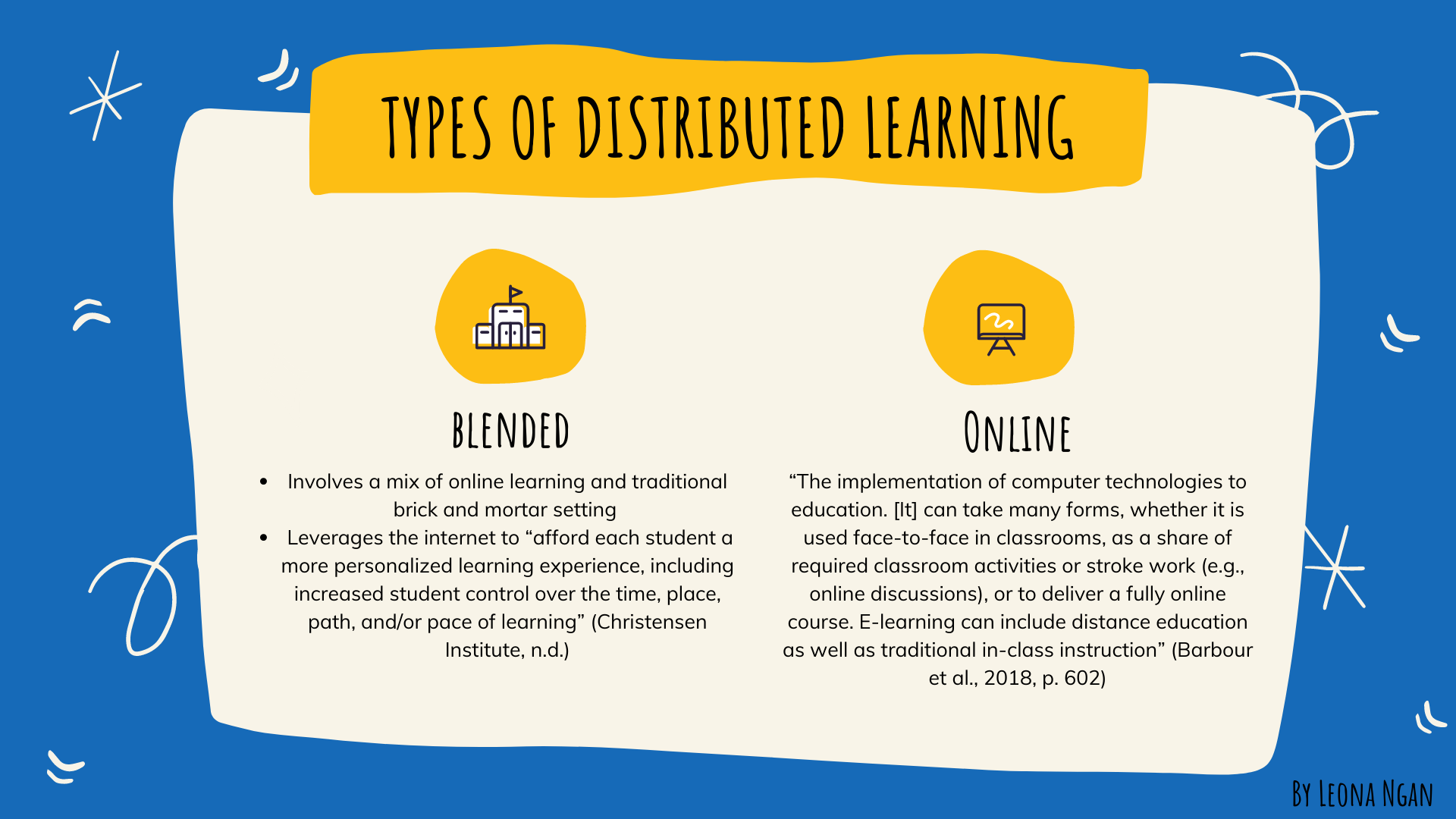 Context and History
Distance and distributed learning in Canada, which began over 100 years ago in 1919, started out as a way to improve student access to information, material and resources. As a country with a vast geography and limited and dispersed population, it becomes clear why Canada has a deep history in and is a leader of incorporating this type of learning into the K-12 education system. Since new technology has emerged, other models and programs of learning have become possible – in 1993, virtual schools were in introduced in BC; in 1994, Ontario, Alberta, Manitoba and Newfoundland & Labrador launched district based online learning; and in 2008, the Canadian Learning Network (CANeLearn) was created to service distance and online learning across the country (Barbour, et al., 2018).
From the recorded webinar with Dr. Barbour, Dr. LaBonte and Dr. Roberts, a key aspect of effectively implementing distributed and open learning models that was discussed was the importance of intention – in designing and structuring your learning space. How you want to deliver content, facilitate social interactions, and connect with your students should be guided by your overall pedagogy, which may be supported by your choice in digital technology. Ultimately, the technology you decide to use shouldn't be the factor driving learning – it should be led by you and your pedagogy.
References
Barbour, M & Labonte, R. (2018). An Overview of eLearning Organizations and Practices in Canada. In R. Ferdig & K. Kennedy (Eds.), Handbook of research on K-12 online and blended learning (pp. 600-616). Pittsburgh, PA: Carnegie Mellon University ETC Press.
Bates, T. (2014). Learning Theories and Online Learning. [Blog post]. Retrieved from https://www.tonybates.ca/2014/07/29/learning-theories-and-online-learning/.
Christensen Institute. (n.d.). Blended learning. https://bit.ly/2Zr9lH8
Edutopia. (2013, May 7). Henry Jenkins on participatory culture (Big Thinkers Series) [Video]. YouTube. https://www.youtube.com/watch?v=1gPm-c1wRsQ
Q Media Solutions. (2018, April 11). Henry Jenkins: The influence of participatory culture  on education – PULL [Video]. YouTube. https://www.youtube.com/watch?v=FauyvnDmUn0
Reilly, E. (2009). What is learning in a participatory culture? Threshold. https://dml2011.dmlhub.net/sites/dmlcentral/files/resource_files/  THSpring09WhatisLearning.pdf
Roberts, V., Blomgren, C., Ishmael, K., & Graham, L. (2018). Open Educational Practices on K-12 Online and Blended Learning Environments. In R. Ferdig & K. Kennedy (Eds.), Handbook of research on K-12 online and blended learning (pp. 600-616). Pittsburgh, PA: Carnegie Mellon University ETC Press.
University of Alaska Fairbanks. (n.d.). Open education practice. https://open.uaf.edu/open-education-practice-oep/